Farm to Market.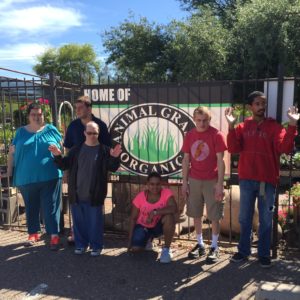 Animal Grass Organic strives to employ adults with Autism and Special Needs for our production needs.
One in 68 children are diagnosed with Autism, 4,000 children are born with Down Syndrome and 8 million children are born every year with serious birth defects. The unemployment rate for these individuals exceeds 90% – these statistics are unacceptable.
Animal Grass Organic is honored, humbled, and blessed to have the opportunity of working with these amazing, capable, and joyful individuals and help to give them a voice!
Animal Grass Organic presents "Farm to Market" field trips for prospective employees, the special needs community, and High School Special Education departments.
Animal Grass Organic brings individuals from these special needs communities to our farm where we do all our production. Each individual is given the opportunity to produce two flats (32 units) of Animal Grass.
This process includes setting growing containers into flats, measuring soil and seeds and watering. This is definitely a confidence builder and is also a lot of fun!
After clean up at the Farm, we go to Sprouts Farmers Market. At Sprouts, these prospective team members and guests arrive at the back receiving dock and are educated by a Store Manager on how products are received, accounted for, and ultimately go on the grocery store shelves. From there, we go to the Animal Grass Organic display rack to show what the product they just planted will look like and exactly how it gets to the store and on the shelf!
The field trip wraps up with each participant being given an Animal Grass Organic "growing kit" to take home and show their families what they learned on their field trip.
This is an amazing experience for everyone!
For field trip information, please contact Krysti at [email protected]